Ok so I know I'm only 38 weeks..so 2 weeks left, but the way I feel I think I'll be this way for the rest of my life...I mean seriously I've been preggo for the past like 4 or more years or I've had a baby LOL...As bad as it sounds it's not that bad though..I'm glad my kids are close in age because now 5 years from now I don't have to worry about diapers & bottles & all the baby stuff again..This way I can get it done all at once and forget about it..Although I am leaving my options open and getting an IUD after this one is born that doesn't mean I'll have another..Chances are I won't, this day and time 4 kids is probably more than enough!! But I love every last one of them & they'll always get before I do!!
And probably the last belly pic before Baby gets here!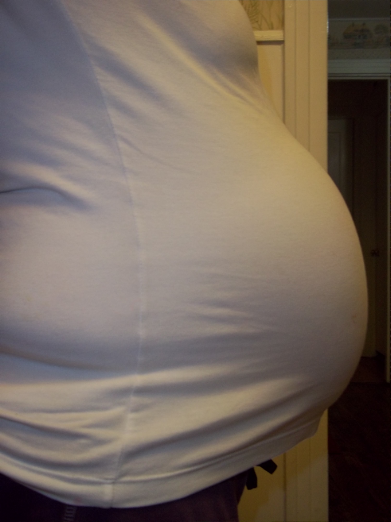 On another note, Kayden goes back to his cardiologist today at 2:15! He's doing very well with eating & playing..His leg isn't as swollen as it was but it's still a little more swollen than his other one still from the cath..He is hell trying to give his medicine's to him now..But hey if I were 3 years old and had to take 6 meds a day some 3 times a day I'd be pissed and run too!! Most of the time I think we're good there has been a couple times he's spit all of it out at me well a couple of them..the ones he has been on for awhile he does good with but the new ones he HATES...He's on one now that's a pill I have to crush he gets it 3 times a day & he absolutely hates it so it's tough giving it to him, yesterday he decided to throw a car at my head so I have a place beside my eye =[...So me & him didn't talk for about 15 mins, then I sat beside him gave him a hug & had a little chat with him..After that he took his meds fine lol!! So I guess that will be what I try from now on if he wants to be mean about it!! The only concern I have still is he's on 2 meds for fluid and still his face looks swollen everyday, so I may ask his doctor about that today if he doesn't notice it. Besides his heart & everything he is doing great, and he keeps telling his baby brother to come out lol! I'm anxious to see how he is with this baby because when Tavion was born the first thing Kayden did was throw a cup at his head =/ lol! Tavion has his 18 month check up FINALLY on Wednesday. It was suppose to be last month but Kayden had to go to UVA..So I'm always anxious to see how big they've gotten at their appointments even now it's fun to see how big Alexis & Kayden have gotten too..So the fun doesn't end once they are a year old lol!! I just hate sick appointments those are the worse =[, luckily I haven't had too many of those except with Kayden.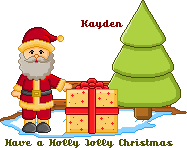 I love my little sigtags <3 they are fun to make and always turn out adorable!
On to Alexis, lol...She was sick this past Friday and slept all day & night..She woke up better Saturday..then on Sunday, Philip came over to see the kids. He bought them a new game, Gator Golf lol so they played it forever it seemed like, she did her homework & we ate dinner...poor Lyndsee was sick Sunday so she was either sleeping or in the bathroom the whole evening/night...Then about 1:30 this morning Alexis woke up sick..So needless to say they stayed home from preschool today. Both of them seem better, they've been playing so hopefully it doesn't come back! AND HOPEFULLY I DON'T GET IT!! She has her last ballet class today, they won't have another until January..I've got to make some rice krispie treats to take because they are having a little party for the preschool age and tiny tots!
I didn't make Alexis' but it's just adorable =]
Anyways to wrap things up, everythings going great other than my sisters being terrible the past couple of months...Mom is worried she won't get to be there when I have the baby since Heather & her husband aren't around anymore because they want to be childish about everything..And Cindi decided she wants to complain and be a child about the kids & everything else as well..So we really have no one now to help us with the kids except my brother, which he works ALL the time so hopefully I go in labor while he's off work one day lol!!